Well, it ain't so bad!!!!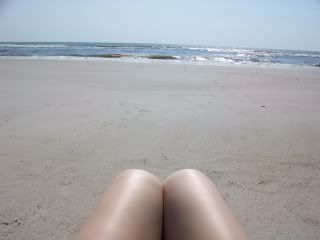 The kids and I headed out at 9 o'clock IN THE MORNING! This guaranteed me a good seat on the beach and a good chance of getting home early enough to do other things today. Like sit in front of my computer and type! I am listening to some really good music right now so it's not a bad thing being
right here
.
We were lucky enough to show up when the tide was out and it had left a wonderful little pool (more like a small stream as it even had a northward current and little tiny fishies!) for the girls to play in.
This meant that I could turn my chair toward the beach and the sun and close my eyes...except when those two really nice looking tattooed guys had to chase after the runaway football. I promise I didn't take pictures of them because that would just be weird. But I should have.
It was just a beautiful day.
Could it get any better?!?!!
Why, yes. Yes it can!
Ha! They fell asleep. Now it's my turn.