So says James Lovelock. It's not too farfetched of an idea considering the crazy weather we here in Jacksonville have dealt with in just the past five days. But then again, it's Mother Nature and she likes to show off sometimes.
A massive storm pushed through this past Monday night and the glow from outside was so intense that every room in our house took on a yellowish hue. When we walked outside, everything was glowing blue. It's too bad that couldn't have been caught on camera, but this shot of the sky was pretty incredible.
I spent this afternoon in a medical building rushing from the pediatrician on one side (for my daughter's swollen eyelid appointment at 3:00) to my own doctor on the other side (to get the 411 on my allergy test at 3:45) and totally missed the excitement that went down only 8 miles from my office (which is a good thing since I hadn't brought a change of underpants for myself).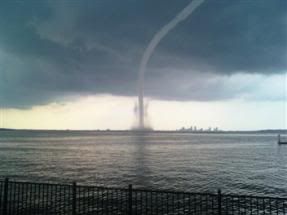 I've seen all kinds of things happen from the top of my favorite bridge (the Dames Point Bridge) that connects Jacksonville's Northside to the Arlington neighborhood on the other side of the St. John's River. Things like car accidents that leave vehicles piled on top of one another in positions that put the kama sutra to shame. Then there's the bohemoth of a cruise ship that threatens to topple the bridge with its barely-existent clearance (
at low tide
!). I've even called 911 in hopes that a would-be jumper could be convinced to give himself another chance at life. But that waterspout eventually made it to land and took out a couple of trees. It even threw some powerlines down with enough force to cause an explosion and burn a 3-foot hole in the asphalt.
Hurricane season? BRING IT ON.