I work for a state university and was instructed by the man in charge to go home, collect a paycheck, and not come back until January 5th. Hey, no problem. That was on Monday. It's now Wednesday. I'm bored outta my freakin' mind.
Thing is I'm broke. I was broke before Monday, but at least I spent my days at work doing productive things. Like wearing a glittery top hat and light-up bowtie while blindfolding my superiors and spinning them around before sending them off into the wilds of "Pin the Stocking on the Mantle" at our department Christmas party.
It's different this time, all this paid time off being forced upon me. The goal here is to not spend money. Santa's in financial recovery mode as of this moment and I hope he's going to share with me some secrets on how to survive being stuck in the house for two weeks.
But then I realized something: it's better than being stuck in an airport. Or in the Middle East. I'm being paid to stay home while some people don't even have a job. I'm stuck in my house for two weeks while some people are struggling to provide a Christmas for their children even while facing foreclosure.
Count your blessings. Hug your children. Smile at your neighbor. Better yet,
share
your blessings,
enjoy
your children, and
talk
to your neighbor. When I look at it that way, I think the next two weeks will be very fulfilling.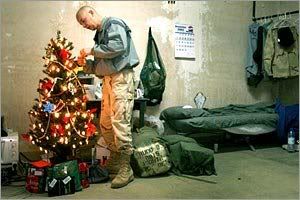 Merry Christmas.