I had cabin fever this morning. A bad, bad case. I filled up the gas tank and Elle and I headed north on I-95. We could've easily headed south on I-95 but then we would never leave Florida. And
that
, my friends, was the main idea.
Brunswick, Georgia sounded like a good place to end. It was a Sunday afternoon, the first Sunday after Christmas, and I pretty much figured everything would be closed. But their website brags about this dazzling waterfront harbor/district with shops and scenery and...aaah, it just sounded like a nice way to spend this 80-degree winter day. Until we got there.
Elle asked me, "What's the smell, mommy?"
"Oh dear," I said (sniff sniff), "that would be the smell of Brunswick."
It's ok. Everything was closed and we never found that dazzling harbor district, though my view could have been blocked by all the signs protesting a newly proposed Glynn County Downtown Jail on waterfront property. Georgia makes me laugh.
Back onto I-95 (southbound, this time) to exit 29. Did I know what I was really about to find? No. Had I heard a few things about this fantastical hideaway I was about to see with my own eyes? Hmm...a little! Will I ever shut up about how freakin' awesome I think this place is? Um...NO!
It's Jekyll Island!
(And if you've ever been to Jekyll Island but didn't like it, please just shuddup 'cause I really dig this little piece of heaven on earth.)
I had no idea how truly neat-o this entire island could be. Not only is it pretty to look at, but it's also full of history. I don't think I even wandered away from the one square mile that surrounds the Jekyll Island Club, but I was still overwhelmed with how much of the past still exists there. 'Cause it's awesome!
Check it - my daughter climbing a tree in front of J.P. Morgan's condo, Sans Souci (yes, this is one of the condos that introduced America to condos):
And here is Sans Souci (well, half of it):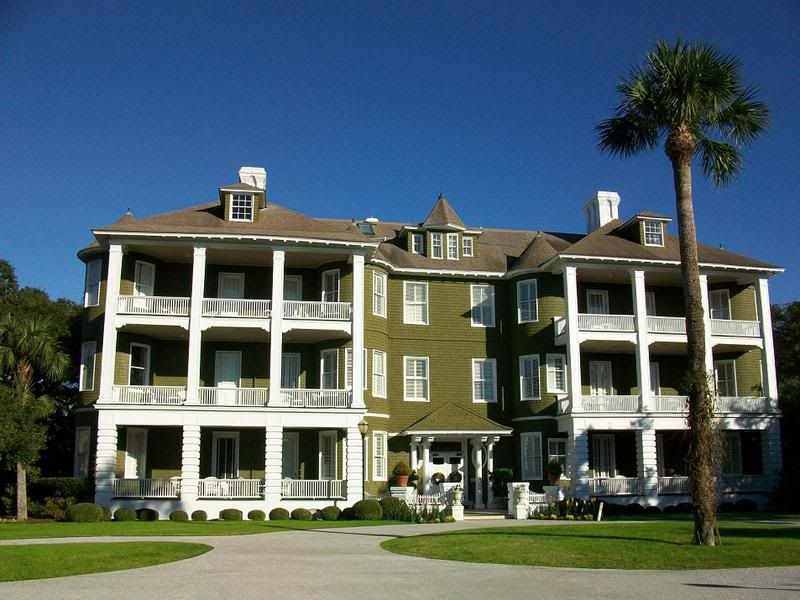 So all the Ritchie Riches from Up North came down to Jekyll Island and, basically, created it (the Riches = Vanderbilt, Astor, Pulitzer, Morgan, Goodyear, Macy, Rockefeller, etc.). Do you know that the Riches actually moored their yachts (yes,
yachts
!) in nearby Brunswick (pre-paper mill stink)? The Riches built cottages the size of McMansions and called them "winter homes". Yeah, whatever. Then the state of Georgia evacuated the whole island, told all the Riches to go home, then promptly bought it.
How clever! Wait 'till the island is all fixed up and no longer a handyman special. Georgia still makes me laugh.